Eyjafjörður (island fjord) has recently become one of the best places for whale watching in Europe. Last years, sightseeing success in the fjord has been 90% -100% with a lot of incredible humpback whale sightings. You can sail from Dalvík, Hauganes, Hjalteyri and Akureyri. If you are an obsessed whale enthusiast, or just want the best chance of seeing humpback whales, Eyjafjörður is the place to go.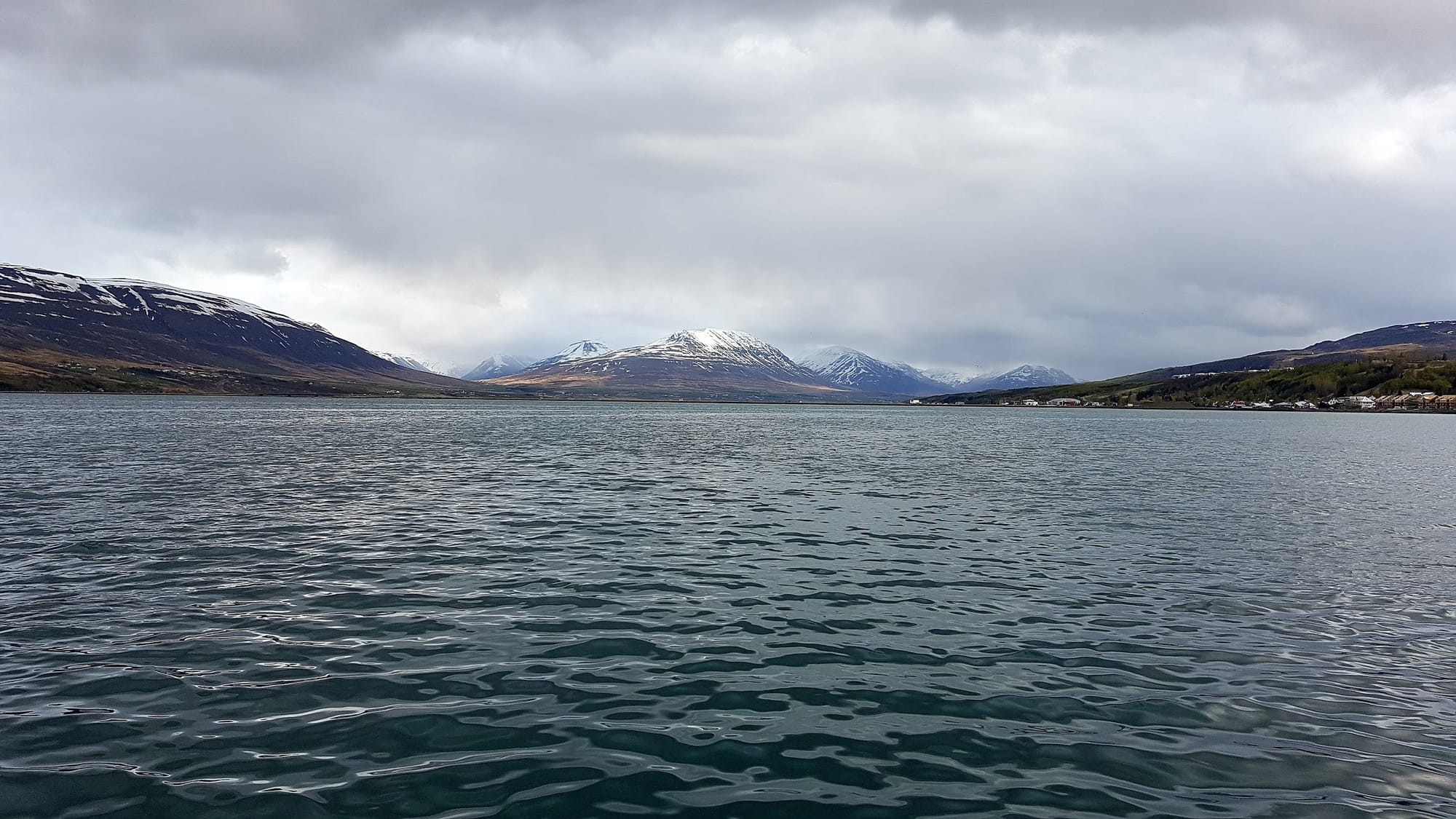 Eyjafjörður is one of Iceland's longest fjord and the longest fjord in North Iceland, it stretches some 60 km into the land. Few rivers flow into the sea in the fjord and fresh water also emerges from the crust at the bottom of the ocean. The combination of freshwater and seawater makes the fjord ideal for hungry whales. The stream around Iceland delivers plankton and fish larvae into the fjord that the whale pursues. Three hydro thermal vent sites with numerous chimneys are found at an unusually shallow depth, only 65 m. Nowhere else in the world have these geographical wonders been found in such shallow waters usually found below 500 m. What makes whale watching in Eyjafjörður special is the calmness of the sea. Since the whale watching takes place in this long, narrow fjord, the sea is usually very calm. The fjord is the home of the Humpback whale. The Humpback whale is following its food into the long fjord from Skjálfandi bay and often swims all the way to the end of the fjord where we you will find Akureyri town.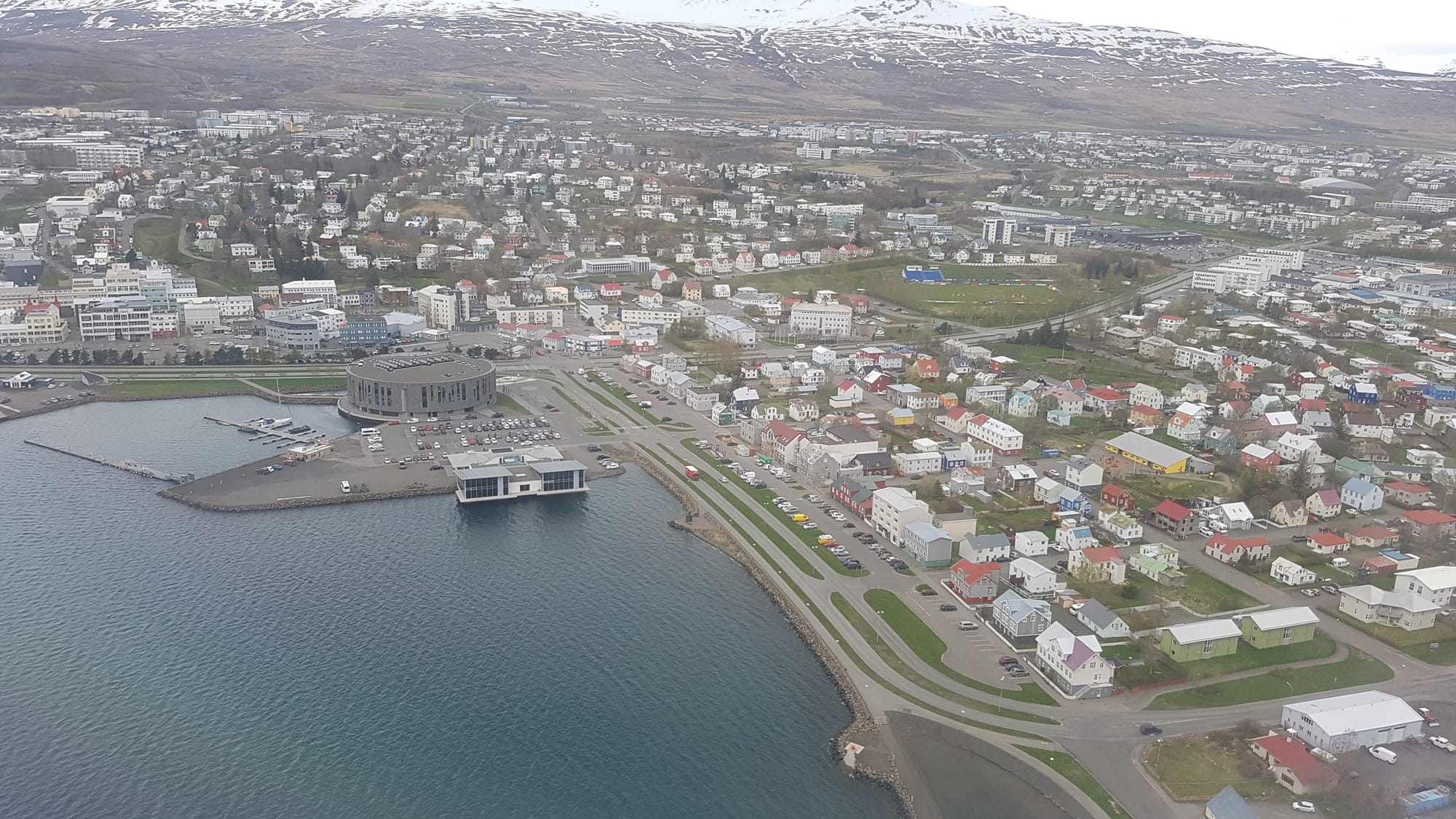 Akureyri is the biggest town in Eyjafjörður and often referred as "the capital of the north". This big town has little less than 20 thousand residents but is still the biggest town outside the capital area in south Iceland. Most tourist arrive to Iceland trough Keflavik international airport some 430 km (267.2 mi) away from Akureyri. Akureyri is very accessible from all over the island, specially during summer. It's easy to rent a car and drive there yourself, it will take you about 5-6 hours and you won't be bored, just try to stop yourself from stopping every half an hour taking photos of horses and beautiful landscape, it just gets better and better. If you don't want to rent a car, there are other ways of transport, direct flights and bus schedules. You could easily plan your whole stay in and around Akureyri and north Iceland and still must come back to see some more. In terms of whale watching, Eyjafjörður and north Iceland is a dreamland for the whale watcher. As mentioned earlier, Eyjafjörður is full of life and you will find a lot of wonderful small villages "all around" the fjord. The fjord is usually full of humpback whales, often seen 2-5 together sometimes more. The winters are not inferior if the weather is favorable for sailing. The breath-taking landscape also helps. Eyjafjörður is also a perfect place to see the northern lights during the winter.
There are two companies that offer whale watching tours from Akureyri. The history and the operation of the two companies are very different. Keli Sea tours Akureyri is a company built around three brothers and their boat build by their father, Áskell Egilsson, in 1975. An old traditional Icelandic 30-ton oak boat that was scheduled for disassembly and to be sold for scraps in 2015. The three brothers bought the boat and got it ready for sailing again. They now offer whale watching tours during summer. Keli tours truly offers personal tours on this small boat. They offer tours from May 9th throughout September with some departures in October. The other company is Akureyri whale watching a company that is a combination of two other companies, Ambassador whale watching & Akureyri whale watching. Ambassador was founded in 2013 and was the first whale watching company to operate tours from Akureyri. Now bear with me… Elding whale watching from Reykjavik, one of Iceland's biggest and most experience whale watching companies along with Whale safari, Elding sister company in Reykjavik, that offers whale watching on RIB boats, decided to establish a joint whale watching operation in Akureyri in 2016, offering whale watching on larger boats as well as RIB boats under the name, Whale watching Akureyri. It soon became apparent that the town did not carry two large whale watching operations and in 2018 these companies merged under the name of Akureyri whale watching. Akureyri whale watching operates all year round with RIB boat season from April through out September.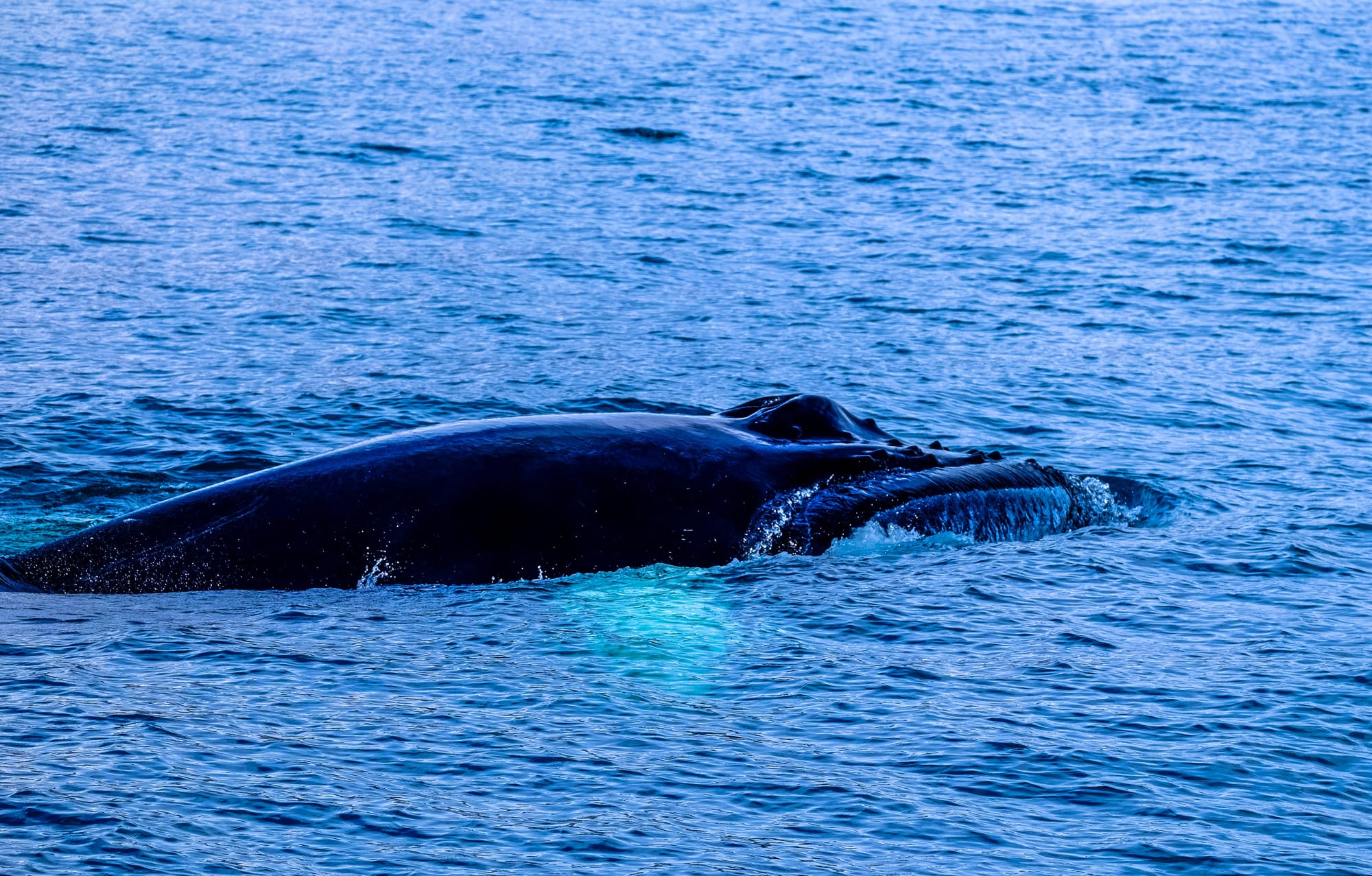 The town of Dalvík with a population of approx. 1,400 people, is a little seaside village, 40 km from Akureyri, easily accessible by car. Dalvík is located on the natural paradise of Tröllaskagi (troll Peninsula). Dalvík harbour is a large fishing and commercial port with a ferry that serves the island of Grímsey island, Iceland's northernmost community, which lies on the Arctic Circle. If it happens, that you are so lucky to be up in north Iceland on the Saturday after the first Monday of August, go to Dalvík! Fiskidagurinn mikli (The great fish day) is an annual festival, one of Iceland biggest festival with attended by up to 30,000 people who enjoy a free fish buffet sponsored by the local fishing industry. A fun fact about Dalvík: This small town has had four representatives at the Eurovision song contest for Iceland!
Arctic Sea Tours offers two types of whale watching from Dalvík. The main whale watching is operated on a traditional Icelandic oak fishing boat from 27 February throughout October and whales and puffin watching on RIB speed boats from May throughout October. Like most of the whale watching company's in Eyjafjörður, Arctic Sea Tours pride them self of astonishing 98% success rates in whale and dolphins' sightings and almost always seeing humpback whales from May to September.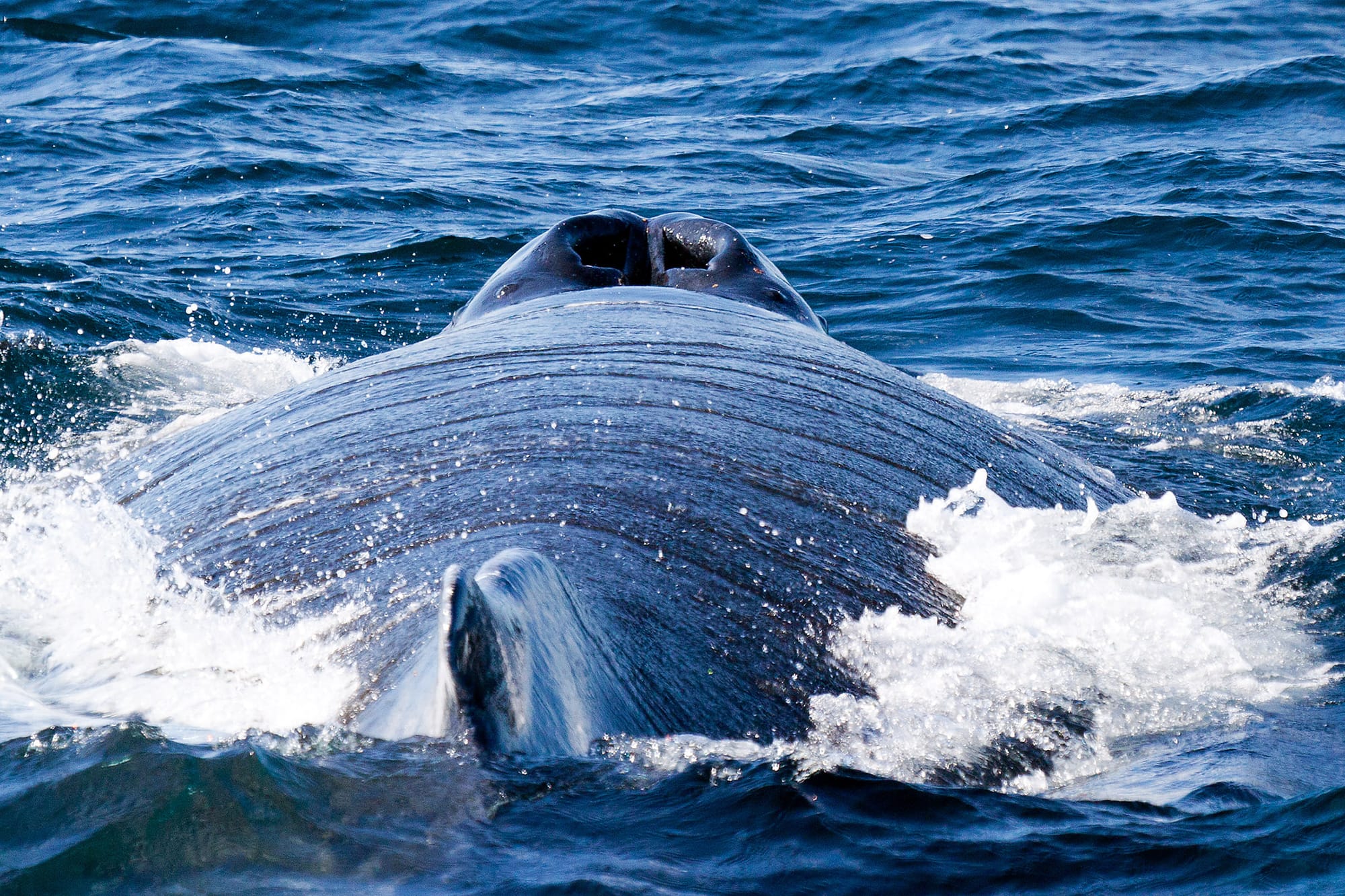 The town of Hauganes is a small village only 20 min drive from Akureyri, with approx. 120 inhabitants in the center of Eyjafjörður. There are no stores or shops in the village, not even a gas station, but you will find one of the oldest whale watching company in Iceland which explains how they managed to get www.whales.is as the domain for their homepage. Whale Watching Hauganes is run by the same family that started scheduled whales watching tours during the summer of 1993. Sailing from Hauganes is ideal. Firstly, because of all the Humpbacks in the fjords and the calmness of the waters, also the location of the town. The tours are normally 2 – 2,5 hours instead of 3-hour sailings as usual. The reason is, it usually takes only 15-20 minutes to reach the whale watching area. Whale watching is offered from start of May to October 10th During winter the boats are used for fishing.
The town of Hjalteyri is another small village, with an emphasis on small where the population counts 43 people, is located on the western shores of Eyjafjörður. Hjalteyri has some of the most interesting diver areas in the world, as the famous geothermal struts are right offshore. Whale watching is an art. Good whale watching needs experience and knowledge, both on whales and your surroundings and sailing. Few companies have been able to prove themselves as well in the art of whale watching as North sailing. They're all in. With beautiful selections of boats and their focus on environmental operation its easy to "fall for them" North sailing mainly operates from Húsavík, but from Hjalteyri they operate Whale Watching Hauganes. There they sail on a former fishing boat, like so many others, but this one, Knörrinn, traditional refurbished oak boat build in 1963, was the first scheduled whale watching boat ever to sail in Iceland. They offer this traditional whale watching tour from mid-May to end of September.
Whale watching company's in Eyjafjörður